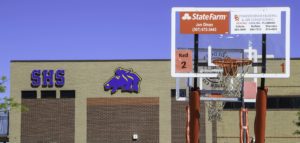 Dear Prospective Sponsor,
Thank you for your interest in sponsoring the Wyoming Rehab Hoop Jam 3-on-3 Street Basketball Tournament! Wyoming Rehab, in partnership with Sheridan High School, has hosted this community wide, fun event since 2001, with all proceeds going to support the athletic training programs in our local schools.
In 2018, the Sheridan High School athletics department will continue to receive all the funds raised from this event. The students of Sheridan High School's clubs will also have an opportunity to raise money during the event. Our hope is that this event will positively impact as many students from Sheridan High School as possible, as well as positively impact our community. On average, the Wyoming Rehab Hoop Jam tournament hosts about 800-900 children, students, and adults along with their families during this weekend. There are 20 courts with each team playing a minimum of four games during the weekend.
We would greatly appreciate your partnership in this event. Your support will provide another year of family fun for our community as we move forward in helping the students at Sheridan High School attain their athletic goals and dreams. For more information, click here to contact us today.
Sincerely,
Wyoming Rehab Hoop Jam Staff